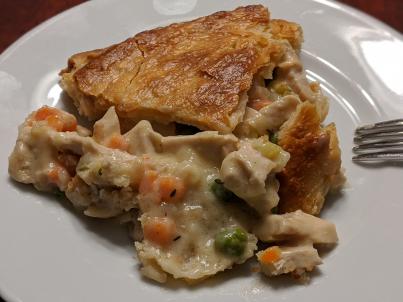 Chicken Pot Pie
1½ lbs chicken breast
1 cup finely chopped celery
⅔ cup butter
½ onion, finely chopped
⅔ cup flour
2 14.5 oz cans chicken broth
2 cups milk
¾ tsp salt
¼ tsp thyme
1⅓ cup chopped baby carrots
⅔ cup sweet peas
2 pie bottom crusts in pie tins
2 pie top crusts
heavy cream or egg whites to brush
Preheat oven to 425°F.
Pan fry the chicken breasts in a small amount of neutral oil or butter, slicing lengthwise once firm enough to decrease thickness and increase surface area. Cool and chop into small pieces, about 2 cups.
In the remaining oil/butter and fond, sauté the chopped celery until soft and browned, deglazing with mirin, chicken broth, or just water, and set aside.
Melt butter in saucepan and add the chopped onion. Sauté until soft, then reduce heat before adding the flour. Stir until well incorporated, then increase heat and cook for a few minutes before beginning to add the broth in small amounts while stirring in order to form a roux.
Add the milk, salt, and thyme, and continue to cook for several minutes more to make sure the flour is fully cooked and the sauce is well developed.
Microwave the carrots until they begin to soften, about 3 minutes, then add the chopped chicken, celery, carrots, and peas to the pan and continue to cook for a few more minutes while the flavors combine.
Divide the mixture between the two bottom crusts in pie tins, then cover with the top crusts and crimp the edges. Brush either heavy cream or egg whites over the top crusts, then cut a few slits in the top crusts.
Bake for 30-40 minutes or until crust is golden brown and sauce begins bubbling out.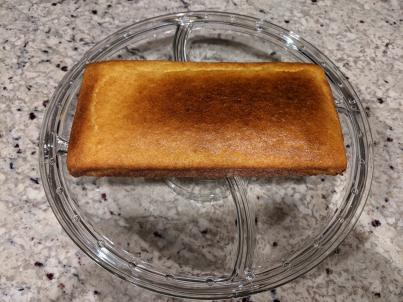 Cornbread
1 cup flour
1 cup corn meal
⅔ cup sugar
1 tsp salt
3½ tsp baking powder
1 egg
1 cup milk
⅓ cup vegetable oil
Preheat oven to 400°F.
Cut parchment paper to fit a 9" cake pan or two 8" loaf pans, to allow lifting the cornbread out after baking. Alternately, thoroughly grease several muffin trays.
Combine dry ingredients, then add remaining ingredients and mix well.
Pour batter into pan(s) so that it is no deeper than an inch or so, or fill muffins only about ⅔ of the way.
Bake for 20-25 minutes or until a toothpick poked to the center of the cornbread comes out clean, and the surface of the cornbread is just starting to brown around the edges and is a medium yellow color elsewhere.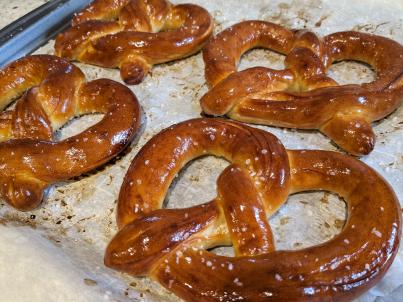 Soft Pretzels
1½ cup warm water
1 tsp sugar
4 tsp yeast
640 g (about 5 cups) flour
¼ cup sugar
1½ tsp salt
1 Tbsp vegetable oil
2 Tbsp baking soda
1 cup hot water
1 stick butter
kosher salt
Dissolve yeast and sugar in warm water. Let stand until creamy, about 10 minutes.
Thoroughly combine flour, sugar, and salt, then add oil and yeast mixture and mix into a dough.
Knead the dough until smooth, about 7-8 minutes, adjusting with a little more water or flour if it's too dry or too wet.
Place the dough in a lightly oiled bowl, turning to coat, and cover with plastic wrap. Let rise in a warm place until doubled in size, about an hour.
Preheat oven to 450°F.
In a shallow dish, dissolve baking soda in hot water and set aside. Melt the stick of butter and get a pastry brush ready.
Turn risen dough out onto a lightly floured surface and divide into 12 equal pieces.
Roll each piece into a rope about 1 cm in diameter, as evenly as possible. Twist into pretzels, and dip each pretzel into the baking soda solution before placing on baking sheets.
Bake until browned, about 8 minutes. Generously brush with butter immediately after removing from oven, and sprinkle with kosher salt.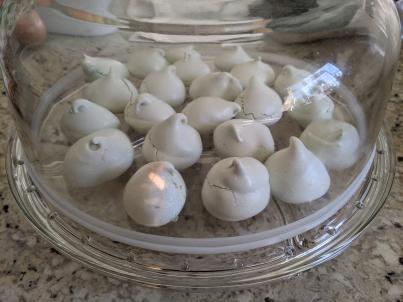 Meringues
4 egg whites
½ tsp cream of tartar
⅛ tsp salt
1 cup sugar
1 tsp vanilla extract, or other flavors

---

parchment paper
a lot of patience
Preheat oven to 225°F and line two large cookie sheets with parchment paper. Set aside.
Combine egg whites, cream of tartar, salt, and sugar in the bowl of a stand mixer, and use the whisk attachment to stir on low speed until well mixed.
Allow the sugar to slowly dissolve, stirring occasionally, until most of the sugar crystals are gone. The mixture will not clear up entirely, but most of the sugar will dissolve.
Beat on high until thick, shiny, and significantly increased in volume. Mixture should have very stiff peaks and all sugar should be dissolved, much like marshmallow fluff spread.
Stir in vanilla extract, or any other extracts, flavoring powders like cocoa, or colors desired. For cocoa, use about 2-3 Tbsp.
Fill a piping bag or plastic bag with one corner cut off with the mixture, and form meringue shapes on the prepared cookie sheet, close together as they will not spread, and should all be baked in a single batch.
Bake for 1½-2 hours. Turn off the oven once the baking time has elapsed, and leave the oven door closed to allow cookies to cool completely in the oven (1-2 additional hours) before removing.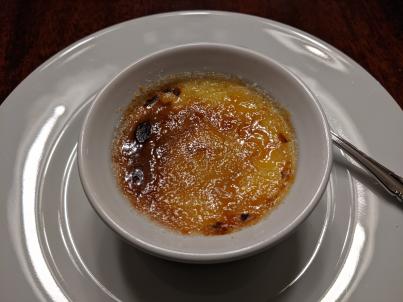 Crème Brûlée
2 cups heavy cream
⅛ tsp salt
1 tsp vanilla extract
5 egg yolks
⅓ cup sugar

---

4-6 ramekins
Preheat oven to 325°F.
In a saucepan, combine cream and salt and cook over low heat until hot, but not boiling. Remove from heat and add the vanilla extract.
Beat yolks and sugar together until homogenous. Slowly add about a quarter of the hot cream into this mixture, stirring constantly, then pour sugar-egg mixture back into cream and stir.
Pour into ramekins and place ramekins in a baking dish. Fill dish with boiling water halfway up the sides of the ramekins. Bake for 30 to 40 minutes, or until centers are barely set.
Cool completely and refrigerate for several hours. When ready to serve, top each custard with about a teaspoon of sugar in a thin layer. Place ramekins in a broiler 2-3" from heat source and cook until sugar browns or even blackens a bit, about 2 minutes.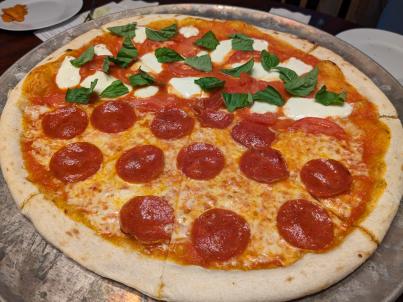 Pizza
1½ cups warm water
2 tsp sugar
2 tsp yeast
4 tsp olive oil
1 tsp salt
575 g (about 4½ cups) bread flour

---

1 28 oz can san marzano tomatoes
½ tsp salt
2 tsp garlic paste
1 Tbsp olive oil

---

1 pound low moisture whole milk mozzarella
other toppings as desired

---

pizza stone or steel, pizza peel, corn meal
Combine water, sugar, and yeast, and let bloom for several minutes. Add olive oil, salt, and flour, and knead either by hand or in a stand mixer until smooth and elastic, and tacky but not sticky.
Divide dough into 3 equal pieces (about 320g each) and place in oiled containers big enough to allow them to double in size, rolling each piece to lightly cover with oil.
Refrigerate for at least 12 hours and up to a week, allowing it to develop flavor and do other science magic.
---
Combine all sauce ingredients and blend until smooth. This is enough sauce for about 6-7 pizzas, but the tomatoes are generally only available in this size can. Extra sauce can be used for dipping crusts, or saved for future pizza.
Shred the mozzarella and refrigerate. Keep it cold until immediately before use, even returning the container to the refrigerator between pizzas. This is about the right amount of cheese for 2-3 pizzas.
---
Place a pizza stone or steel in the oven near the top, leaving enough room to slide pizzas in on a peel. Preheat oven on the broil setting as hot as it will go, often either 500°F or 550°F, for at least an hour.
One at a time, lightly dust each dough ball with flour, flatten to form a pizza shape, place it on the peel on top of a small amount of corn meal, spread sauce on it, and add cheese and other toppings. Flattening the dough takes some practice; consult videos online for tips if necessary.
Jostle the pizza peel to make sure the pizza will release, then slide into the oven and immediately set the oven to bake instead of broil. Bake for about 6 minutes or until the crust is beginning to brown, but the cheese has not yet started to burn.
Remove the pizza and set on a rack to cool before slicing. Remove excess corn meal from the oven, and set to broil again. Allow at least 10-15 minutes before baking the next pizza, so the pizza stone or steel can reheat.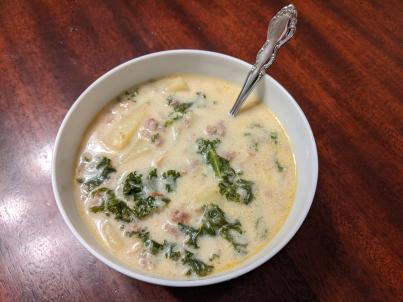 Zuppa Toscana
1 lb Italian sausage
½ cup lard or butter
1 onion, finely chopped
3 Tbsp minced garlic
½ cup flour
5 14.5 oz cans chicken broth
1 cup water
2-3 large Russet potatoes
1 cup heavy cream
1 cup milk
6 cups kale leaves
8 slices crispy bacon
Brown the sausage in a large pan and break it into small chunks, no more than 1 cm in diameter. Set aside.
In the same pan, and with the residual oil and fond, melt lard/butter, then add onion and garlic and cook until the onion is translucent and soft.
Add flour and continue cooking several minutes, then add chicken broth slowly, stirring to form a roux.
Transfer to a larger pot, then add water and continue cooking to bring back to a boil.
Peel and slice the potatoes, about ½ cm thick and cut into quarters. Add potatoes to pot and continue cooking.
Carefully wash kale, remove leaves from the stems, and break leaves into pieces no larger than about 3 cm.
When potatoes are beginning to soften, add sausage, cream, milk, and kale pieces.
Cook until the kale has wilted, then add bacon, chopped into small bits. Stir and serve.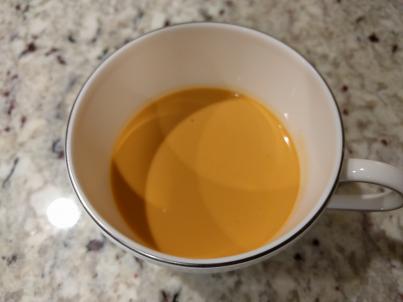 Panna Cotta
1 packet unflavored gelatin (~7g)
½ cup sugar
2 cups milk, divided
2 Earl Grey tea bags
2 cups heavy cream
In a small saucepan, combine the gelatin and sugar, then add 1 cup of milk and bring to a boil, stirring constantly.
In a separate saucepan, bring the other cup of milk to a boil, and add the teabags.
Once the tea has steeped enough to color the milk a medium tan color, remove the teabags and combine both milk mixtures.
Mix in the heavy cream, and pour through a fine strainer to remove any milk skins or gelatin pieces.
Pour into individual size serving cups and refrigerate for at least an hour.
Alternate boozy flavorings: about 3 oz Irish cream, or 1 oz dark rum or Grand Marnier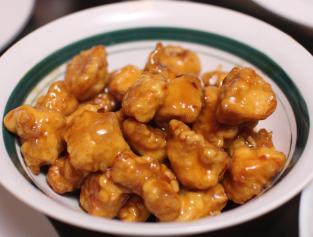 General Tso's Chicken
½ cup sugar
¼ cup soy sauce
⅓ cup white vinegar
1 tsp red pepper flakes
1¼ cups water
3 Tbsp corn starch

---

3 eggs
⅔ cup corn starch
1½ lbs chicken thighs

---

flour
deep frier
Combine all glaze ingredients in a saucepan, mix thoroughly, and set aside.
Trim fat and gristle from chicken thighs and cut into small morsels, about 1" in size.
Beat eggs and corn starch together, then add chicken and mix to cover.
Dredge each chicken piece in flour and drop into a deep fryer at 375°F, letting the batch fry for about a minute once full. Repeat until all chicken has been fried.
Cook glaze over low heat, stirring constantly, until mixture thickens and is no longer cloudy. Continue stirring a little longer after it first thickens; it will continue to thicken for a while yet.
Combine all chicken and fry for about 1-2 additional minutes to reheat and crisp the breading, then immediately pour glaze over chicken, stir to cover, and serve.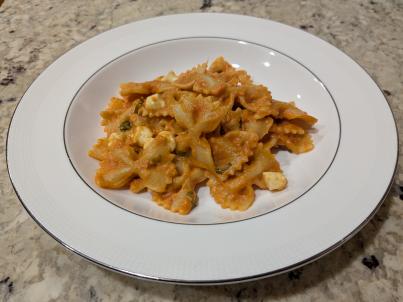 Vodka Pasta
1½ Tbsp olive oil
2 tsp minced garlic
1 28 oz can crushed tomatoes
1 oz vodka
10 large leaves fresh basil
¾ cup heavy cream
½ lb farfalle or mini farfalle
optional: 4 oz ciliegine mozzarella
In a medium size pot, sauté garlic in olive oil until softened, then add crushed tomato and vodka. Simmer, uncovered, about 10 minutes.
Julienne basil and add to sauce. Continue simmering until basil has wilted.
Cook farfalle according to directions on box, often about 12 minutes.
Add cream and cooked farfalle to sauce and stir to combine.
If including ciliegine mozzarella, cut each in half, then fold all into pasta, stirring minimally to avoid stretching as the cheese softens.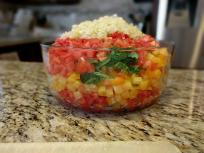 Bruschetta
2-3 shallots, thinly sliced
1 Tbsp minced garlic
4 Tbsp olive oil
3-5 large heirloom tomatoes
2 oz rice vinegar
2 oz red wine vinegar
20 large leaves fresh basil
2 baguettes
Sauté shallots and garlic in olive oil until softened, then set aside.
Dice tomatoes and add to a large bowl. Add vinegars, and shallot and garlic mixture.
Julienne basil and add to bowl. Mix thoroughly, then cover and refrigerate at least 2 hours, ideally overnight.
Thinly slice baguettes and store in an airtight container until ready to serve.
Let bruschetta warm to room temperature before serving, then toast baguette slices and serve with bruschetta.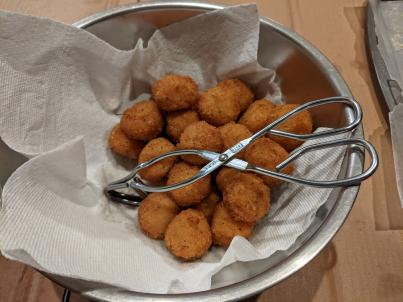 Saffron Arancini
5 cups chicken broth
2 pinches saffron
2 Tbsp butter
½ onion, finely chopped
1 cup short-grain rice
¼ cup dry white wine
⅓ cup grated Monterey Jack cheese

---

bread crumbs
deep frier
Bring chicken broth just to a boil, then reduce heat to keep hot. Add saffron to 1 cup hot broth in a separate container and let soak.
Melt butter in saucepan and add chopped onion. Sauté until soft, then add rice, uncooked, and stir occasionally until rice becomes more chalky in appearance, about 5 minutes.
Add wine and stir until alcohol boils off, then add saffron broth mixture and stir until liquid is absorbed and a flat spatula can leave a clean path behind it while stirring.
Add remaining broth in small amounts, about ½-⅔ cup at a time, stirring after each addition until liquid is absorbed, as before.
Add cheese and stir to melt and thoroughly incorporate, then refrigerate until chilled and firm, about 1-2 hours.
Form into 1" balls and roll each ball in bread crumbs to completely cover.
Arrange balls in a single layer in the basket of a deep fryer, then fry each batch at 375°F for several minutes until golden brown and crispy.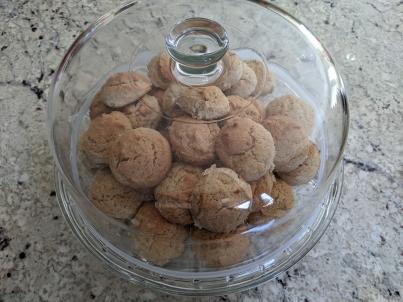 Spice Cookies
¾ cup butter
1½ cups sugar
1¼ tsp vanilla
2 eggs
½ tsp salt
½ tsp baking soda
2 tsp baking powder
½ tsp cloves
½ tsp nutmeg
1 tsp cinnamon
3½ cups flour
½ cup sour cream
Cream butter until soft, then add sugar, creaming until light. Add vanilla and eggs and mix thoroughly.
Combine salt, baking soda, baking powder, spices, and flour, and add to butter mixture in thirds, alternating with sour cream. Chill, covered, for at least 1 hour.
---
Preheat oven to 375°F.
Form into portions about 1½-2 Tbsp, roughly ball-shaped but not rolled or smoothed out, for a rough final texture.
Bake for 10 minutes or until light brown on edges.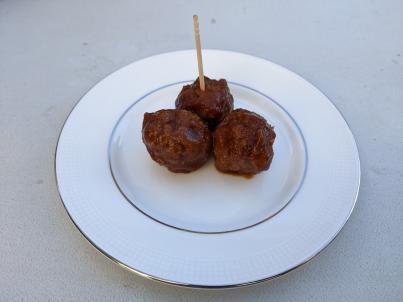 Cocktail Meatballs
2 lbs ground beef
4 eggs
2 cups rolled oats
¼ cup onion powder

---

1½ cups ketchup
1 cup water
½ cup vinegar
⅔ cup packed brown sugar
3 Tbsp onion powder
2 tsp mustard powder
8 tsp Worcestershire sauce
Preheat oven to 325°F.
In a large bowl, combine ground beef, eggs, rolled oats, and onion powder. Mix well and form into 1 inch meatballs.
Bake for 30 minutes on a baking sheet.
Meanwhile, in a slow cooker, combine the ketchup, water, vinegar, brown sugar, onion powder, mustard powder, and Worcestershire sauce, and mix thoroughly.
Remove meatballs from oven and add to slow cooker, gently stirring to coat evenly.
Cook for at least 1 hour before serving, gently stirring occasionally.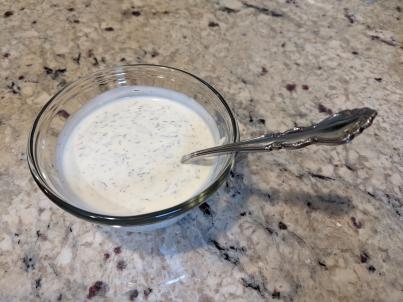 Dill Dressing
½ cup mayonnaise
2 Tbsp vinegar
¼ tsp sugar
1½ tsp dill
Combine all ingredients and mix thoroughly. Chill for several hours before using.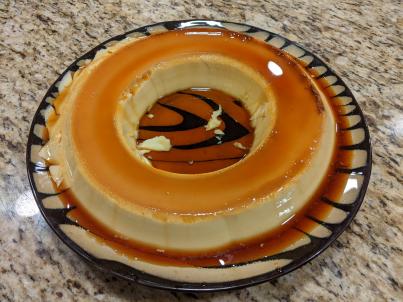 Flan
3 cups milk, divided
⅔ cup sugar for flan plus about ¼ cup for caramel
0.3 ml anise extract, 3 star anise, or ¾ tsp anise seed
6 eggs
1 Tbsp vanilla
1 Tbsp dark rum (optional)

---

high-rimmed baking sheet or casserole
heat diffusion disc (optional)
flan mold
Preheat oven to 300°F and set up a water bath. The water bath should come almost to the top of the flan mold.
Combine 1 cup milk with the sugar and anise and heat just shy of boiling to fully dissolve the sugar. Set aside to cool, removing the star anise or seeds if applicable.
Coat the bottom of the flan mold with sugar, about ¼ cup, then heat to melt and slightly caramelize the sugar. Use a heat diffusion disc to ease. Set aside to cool.
Beat eggs and combine with remaining milk, vanilla, and cooled milk/sugar/anise mixture. Pour over cooled sugar in flan mold.
Bake in water bath for 50-60 minutes. Flan is done when poking it produces only slight jiggles.
Cool flan completely before unmolding.
Run a knife around the edges of the mold, put an inverted plate over the mold, and invert together with the mold.
Drizzle with rum and serve.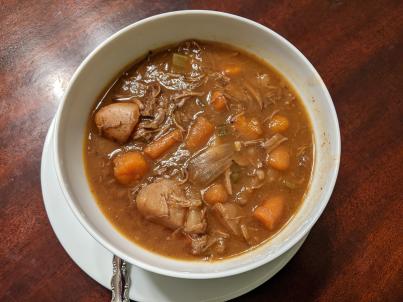 Beef Stew
3 lbs beef, cubed
1 bottle red wine
2 14.5 oz cans beef broth
1 Tbsp tomato paste
2 tsp crushed garlic
1 tsp salt
1-2 onions, enough for 3 cups once chopped
3 cups chopped carrots (baby carrots work well)
3 cups chopped celery or bok choy
3 cups chopped red potatoes
6 bay leaves
3 Tbsp corn starch

---

slow cooker liner (optional)
Sear the beef so all pieces are browned on all sides, and add to a slow cooker, optionally lined with a slow cooker liner for easier cleanup later.
Deglaze the pan used for searing with some of the red wine, then add all red wine to the slow cooker as well.
Add beef broth, tomato paste, garlic, and salt to the slow cooker.
Chop the onion into small pieces, not quite minced but small enough to fit comfortably on a spoon, and add to the slow cooker.
Chop carrots, celery or bok choy, and potatoes similarly, and add to the slow cooker.
Stir slow cooker contents to distribute ingredients evenly, add the bay leaves, and set slow cooker for 6 hours.
Very occasionally, stir to redistribute ingredients and make everywhere near the slow cooker smell amazing.
When cooking is done, remove and discard bay leaves, then remove 2 cups of liquid to a small pot.
Let removed broth cool slightly, add corn starch, and heat until thickened, stirring constantly. Set aside.
Remove about 1½ cups of vegetables (but not beef) to a blender, plus an equal amount of broth, and purée. Add purée to the thickened broth.
Remove a final few cups of liquid from the slow cooker to rinse the blender, pour the thickened broth back into the slow cooker, and pour the blender broth into the pot to rinse it as well. Add all back to the slow cooker and stir to thoroughly combine.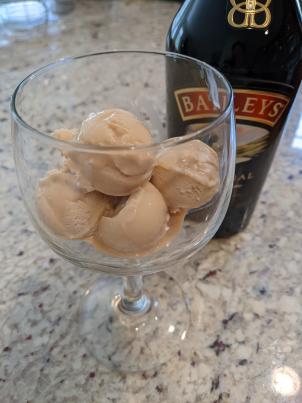 Irish Cream Ice Cream
½ cup heavy cream
½ cup whole milk
1 Tbsp sugar
1 Tbsp brown sugar
¼ tsp vanilla
2 Tbsp Irish cream

---

ice cream machine
Combine all ingredients and mix thoroughly to completely dissolve sugars.
Add mixture to ice cream machine and freeze to ice cream. Makes about two servings.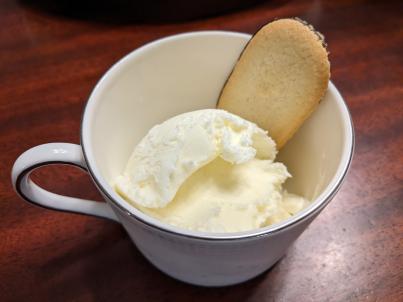 Tea-free Earl Grey Ice Cream
¾ cup heavy cream
¾ cup whole milk
3 Tbsp sugar
1 drop bergamot oil

---

ice cream machine
Combine all ingredients and mix thoroughly to completely dissolve sugar.
Add mixture to ice cream machine and freeze to ice cream. Makes about three servings.
Basil Ice Cream
¾ cup heavy cream
¾ cup whole milk
3 Tbsp sugar
28 grams fresh basil leaves

---

ice cream machine
Trim basil to remove large central veins, then blend with all other ingredients until homogeneous. For best results, avoid introducing air during blending by appropriate choice of blender and/or method of use.
Add mixture to ice cream machine and freeze to ice cream. Makes about three servings.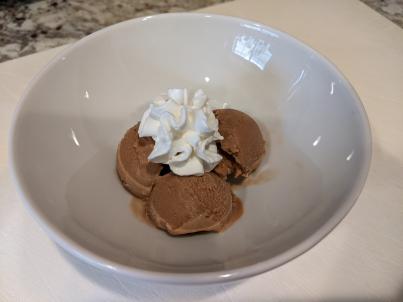 Chocolate Malt
¼ cup sugar
2 Tbsp malted milk
2 Tbsp hot chocolate powder
1 cup whole milk
2 Tbsp chocolate syrup
½ tsp vanilla
1 cup heavy cream

---

ice cream machine
Combine sugar, malted milk, and hot chocolate powder, then add milk and mix thoroughly to completely dissolve sugar and incorporate chocolate powder.
Add remaining ingredients and mix until homogeneous.
Add mixture to ice cream machine and freeze to milkshake consistency. Makes about four small (⅔ cup) servings.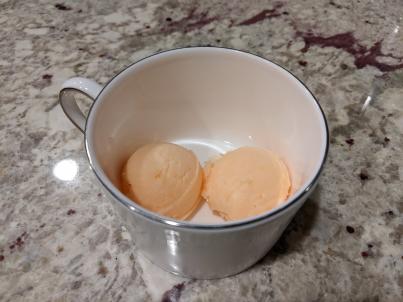 Orange Sherbet
2 cups orange juice
¼ tsp orange extract or 1 Tbsp orange zest
1 cup sugar, divided
½ cup heavy cream
½ cup milk
orange food coloring (optional)

---

ice cream machine
Combine orange juice, extract or zest, and ⅔ of the sugar, then mix thoroughly to completely dissolve sugar.
In a separate container, combine remaining sugar and heavy cream, and whip to soft peaks.
Add milk to orange juice mixture, then fold in whipped cream. If adding coloring, add with whipped cream.
Add mixture to ice cream machine and freeze. For best results, freeze for several hours or overnight in a freezer as well.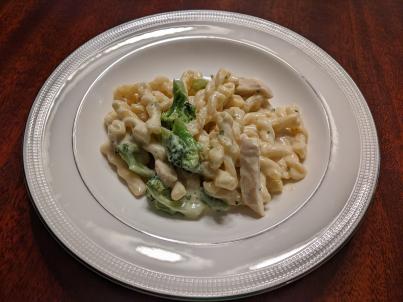 Alfredo Sauce
6 Tbsp butter
1½ cups heavy cream
1 tsp crushed garlic
1 cup freshly grated parmesan cheese
Melt butter in a wide pan over low heat, then add cream, stirring briskly to homogenize.
Add garlic and simmer for about 5 minutes to reduce, stirring occasionally.
Add grated cheese little by little, stirring to melt and combine between additions.
Add pasta and/or other food directly to pan, toss to coat, and serve immediately.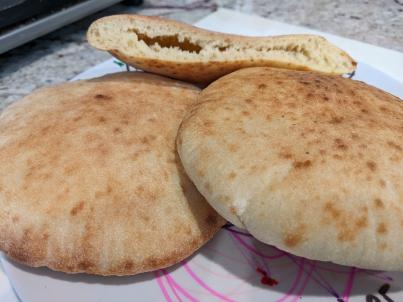 Pita Bread
364 g warm water
9.2 g yeast
18 g salt
1 Tbsp olive oil
607 g (about 4¾ cups) bread flour

---

pizza oven
Combine water and yeast, and let bloom for several minutes.
Add salt and olive oil, then add to flour, and knead either by hand or in a stand mixer until smooth and elastic, and tacky but not sticky.
Cover and let rise in a warm place for about two hours, until doubled in size.
Punch down and divide into 8 equal pieces (about 125g each) and place in separate covered containers. Let rise in a warm place for about a half hour more.
Roll out each dough ball to a uniform thickness of about ½ cm, using extra flour to prevent sticking.
Place in thoroughly preheated pizza oven, and allow to inflate and brown before removing, about 1-2 minutes. To prevent premature browning before inflation it may be necessary to temporarily turn off the pizza oven until inflated.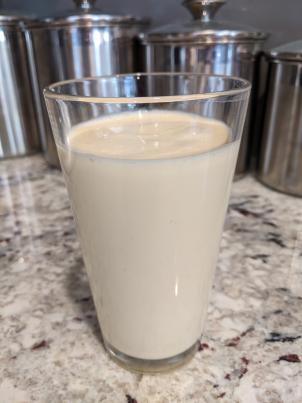 Egg Nog
1 cup heavy cream
3 cups milk
6 Tbsp sugar
½ tsp nutmeg
4 eggs
Optional: 3 Tbsp dark rum
Combine all ingredients in a blender and blend until homogeneous.
Note that the eggs remain raw; use appropriatedly-sourced eggs for safety.